Leicestershire cyclists 'targeted' by BMW driver and passenger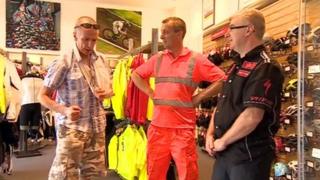 Three cyclists from Leicestershire have accused a motorist and their passenger of "maliciously" forcing them off their bikes.
The men suffered injuries ranging from bruising to a broken collar bone, after they said they were forced from their bikes by an old-style silver BMW in separate incidents.
Two of the cyclists said a passenger in the car reached out and pushed them.
Police said they were taking the matter "very seriously".
'Flying over handlebars'
The alleged incidents happened between 1 and 6 July.
Martin Webster, who runs a bicycle shop in Wigston, said he had been out training on Thurlaston Lane at 15:30 BST on 4 July when a car pulled up beside him.
"Somebody from the car pushed me on to quite a deep grass verge," he said.
"I was going quite fast, doing about 30mph and I went flying over the handlebars.
"I don't think they realise the seriousness of what could happen. I could have had a broken neck.
"Whoever did this needs to be found and stopped."
Mr Webster suffered bruising and grazing to his leg and shoulder.
'Will kill somebody'
A second cyclist suffered bruising to his ribs after being pushed by a BMW passenger on Dunton Road, Broughton Astley at 16:08 BST on 1 July.
Colin Haynes said: "I just can't believe somebody could do that. They could quite easily have killed somebody."
The final incident occurred on Stanton Lane, Croft on Saturday.
Cyclist Andy Limb was left with a broken collar bone after the BMW braked in front of his bike, causing him to fall.
He said: "I'm shocked somebody could maliciously run me off the road.
"If I hadn't been wearing a helmet, I would have hit the road head first. They will kill somebody very soon if they don't get caught."
A spokesperson for Leicestershire Police said they had received no other allegations and were not aware of anything similar having happened before.
They said the matter was being investigated and asked for any witnesses to contact them.