Richard III site in Leicester to be excavated again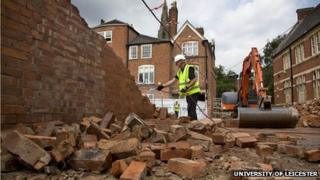 Archaeologists who made the startling discovery of the body of Richard III in a Leicester car park are returning later to start a new dig.
They hope to learn more about the Church of the Greyfriars and will exhume a 600-year-old stone coffin thought to contain a medieval knight.
Later this month a viewing platform will be built so the public can watch.
Richard Buckley, of University of Leicester Archaeological Services, led the dig which found the grave.
It was confirmed as that of Richard III in February, news which captured the imagination around the world.
"It is true that things might never be the same for us again as global attention focuses on our spectacular find, but we are not in the business of finding named individuals," he said.
"Rather, it is the new light that archaeology shines on how we lived in the past that is also exciting.
"It will be emotional no doubt to return to the site where we made our discovery last August."
Before work starts a Victorian wall is being carefully demolished and will be partially rebuilt when the excavation is complete.
The team will also exhume a 600-year-old stone coffin, which is thought to hold the remains of a medieval knight called Sir William Moton.
It is believed he was buried at the site in 1362 - more than a century before King Richard III.
The site is to become part of a permanent exhibition to the discovery of Richard, housed in a nearby former school.
It is due to open in 2014 and it is hoped it will bring 100,000 people and £4.5m into Leicester in its first year.
The discovery of Richard's skeleton lead to a widespread reappraisal of his reputation, left blackened by the works of Tudor historians and Shakespeare.
The bones are due to be reinterred in Leicester cathedral in May 2014, subject to a legal challenge by campaigners who want his placed in York.