Leicester medical centre apologises to Charles Foreman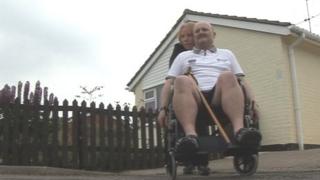 A disabled man who was turned away from a medical centre because his wheelchair posed a health and safety risk, has got an apology.
Atos Healthcare in Leicester said it was "sorry for the upset" caused to Charles Foreman, as he went for a medical assessment.
The centre said wheelchair users are unable to use the first-floor location but are offered an alternative.
Mr Foreman said he is "still very angry" about being turned away.
Back injury
"The situation should not have come about as far as I am concerned," he said.
His wife Karen Foreman said the receptionist was "not rude - she said what she thought was right for them - that health and safety was paramount and that they wouldn't let him in".
Mr Foreman, from Market Harborough, who has a back injury suffered in a work accident, was attending an incapacity medical assessment.
He offered to walk rather than use his wheelchair as he is able to walk short distances with a stick, but the centre refused to carry out the assessment.
A letter from Atos Healthcare said: "We are unable to allow access to the building to people who use walking aids or have mobility problems" because of health and safety regulations.
It said the service will offer people an alternative location including transportation or a home consultation.
The Department of Work and Pensions, which owns the building, released a statement adding: "If people have mobility problems, which may make evacuation in the event of a fire difficult, a home visit or an appointment at an alternative assessment centre is arranged."