Osprey project on Rutland Water enjoys 'record year'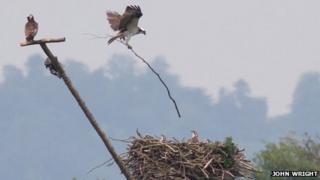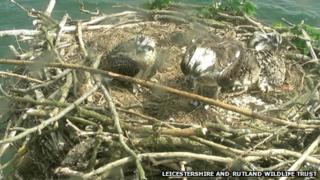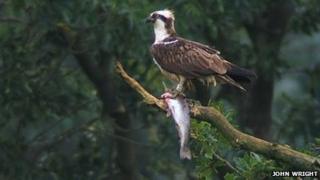 A breeding project to reintroduce ospreys to southern England "is becoming self-sufficient", say organisers.
The bird of prey was reintroduced at Rutland Water in 1996 and this year celebrated a record number of chicks.
Leicestershire and Rutland Wildlife Trust, which manages the scheme, said the species is now close to spreading beyond the project.
They are now trying to encourage the birds to nest in neighbouring counties.
Nests have been built in Nottinghamshire, Cambridgeshire, Lincolnshire, Suffolk, Norfolk and Northamptonshire to encourage new pairs to breed there.
Before the adults set off on the hazardous 3,000 mile migration to Africa, GPS tracking will be attached allowing researchers to see where they go.
It's also hoped the tracking project will protect the birds, some of which have been killed in England.
This year, five pairs returned to Rutland and all successfully bred chicks.
It brings the total to 13 although there could be at least one more.
Tim Mackrill, the trust's senior reserve officer, said: "This is the most chicks we have ever had, the previous highest was 12.
"What's really significant is it shows the population is becoming self-sufficient. Our aim is now to spread into neighbouring counties and ultimately to repopulate southern England."
'Helicoptering'
The birds are more likely to start breeding when a nest is ready made, although they will build their own.
The youngsters, who are now aged between about four to six weeks old, will soon start to fly, 'helicoptering' above the nest before they fledge.
At the end of summer they will make the hazardous migration to Africa but only about 30% survive to return to Rutland and breed.
Their progress is monitored with a live webcam online.
Ospreys are found typically near both salt and freshwater and inhabit a variety of landscapes.
They are supreme fishers, plucking live fish from the water's surface, often submerging themselves in the process.
Although the bird's main UK stronghold is Scotland, there are breeding pairs at Bassenthwaite in Cumbria, at Rutland Water and in mid-Wales.