Richard III statue to move closer to Leicester body find site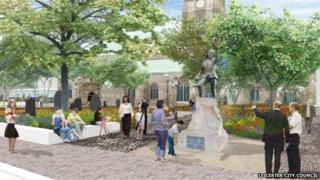 Plans to move a statue of Richard III closer to the site where the king's body was found in a Leicester car park have been unveiled.
The statue will be moved from Castle Gardens to a space outside the cathedral, close to a proposed £4m visitor centre.
Mayor Sir Peter Soulsby said it would be a "fitting" location for it.
He said: "It is close to the new visitor centre and near where the king's body will be laid to rest."
The new visitor centre is due to open in 2014 and it is hoped it will bring 100,000 people and £4.5m into Leicester in its first year.
A temporary exhibition at the nearby Guildhall has attracted almost 80,000 visitors since opening in February.
A replica of the king's head is currently on a nationwide tour but will become part of a permanent exhibition called Richard III: Dynasty, Death and Discovery at the proposed museum.
The move has also been welcomed by the Richard III Society, which gave the statue to Leicester in 1980.
Philippa Langley, who launched the society's search for the king's remains in 2007, said: "Moving the monument closer to the new visitor centre, the dig site and King Richard's final resting place at the cathedral is a great idea.
"I am sure that it will mean that many thousands more people see and appreciate it."
The plans also include the creation of a new public open space, with seating, gardens and a water feature.