Rutland councillors threatened with injunction switch to UKIP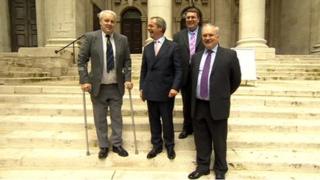 Three councillors previously threatened with legal action by their own council have joined UKIP.
The three members of the Rutland Anti-Corruption Group were previously accused of harassing senior officers at Rutland County Council.
Nick Wainwright, Richard Gale and David Richardson said they were treated unfairly for asking probing questions.
They are the first councillors to represent UKIP in Rutland and are now the largest opposition group.
In a joint statement the trio, who were previously independents, said: "UKIP is the obvious choice, as it supports the same ideals as ourselves; those of honesty, integrity, openness and transparency, along with upholding the fundamental principles of democracy.
"UKIP also does not impose a whip, thus allowing councillors to exercise their own judgement and vote in line with the wishes of their electorate."
Nigel Farage, leader of UKIP, welcomed them to his party in London on Thursday
"I am delighted to welcome such doughty campaigners into our ever expanding group of local government representatives," he said.
Leader of the Conservative-controlled council, Roger Begy, said he had not received official notice of the switch but will be happier if the Anti-Corruption Group name changed.