Leicestershire's three-tier school system could change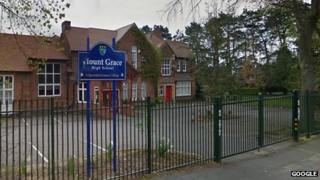 Plans to scrap an "anomalous" school system in two Leicestershire towns have been unveiled.
Schools in Hinckley and Burbage are considering scrapping the middle school system in favour of primary and secondary schools in common with most of the country.
Parents have expressed concern at the proposal but those in favour described the system as an "anomaly".
Leicestershire County Councillor Ivan Ould said it would improve results.
The local education authority is said to be the only one to have adopted the three-tier system across the whole county, which sees pupils change school at ages 10 and 14.
The proposals, which are to be voted on by parents, will see John Cleveland College and Mount Grace High School, in Hinckley, merge into an 11-19 school while Hastings High School, also in Hinckley, and Redmoor Academy, in Burbage, will expand to become 11-16 providers
Mr Ould, county council cabinet member for education, said: "All the statistics show if you can take out the change (of school) between Key Stage Three and Key Stage Four, GCSE results are better."
Some parents questioned whether there was a need to change a decades-old way of doing things while others raised fears over young pupils being influenced by older teenagers.
But Simon Ghent, who campaigned in favour of the change in Loughborough, strongly recommended parents adopt the more traditional system.
"Leicestershire is rather an anomaly. Across the country we were the only county to have a middle school system right across the county," he said.