New Richard III replica skull goes on display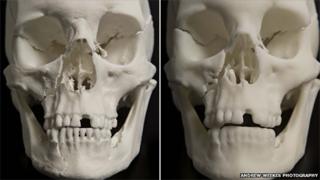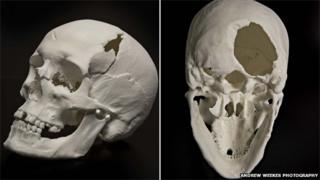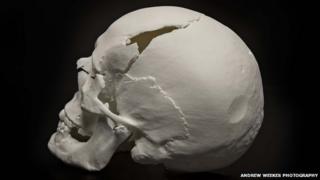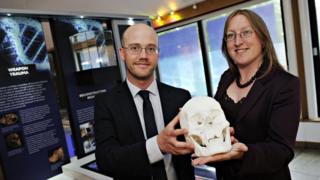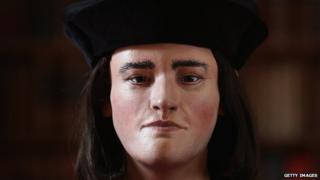 A highly accurate replica of Richard III's skull has joined the exhibition charting his life and re-discovery.
The remains were found in a Leicester car park last August and were confirmed as being those of the king in February.
Loughborough University used a 3D printer to make the reconstruction, which is more detailed than an original made for the announcement.
It is hoped to use the technique, which clearly shows his injuries, to replicate the whole skeleton.
Professor Russell Harris, head of the university's additive manufacturing research group, is leading Loughborough's involvement in the project.
"We are absolutely delighted with the new skull. It is incredibly more detailed than the previous version, and will be invaluable for future studies," he said.
Experts in Loughborough transformed scan data of the skeleton into a 3D computer model and then used a printer to make the replica.
The first version has been on display at the Leicester City Council's exhibition - "Richard III: Leicester's Search for a King" - at The Guildhall since February.
Since then, the team behind the replica used more in-depth data and refined production techniques to create the improved model, preserving the skull for future research after Richard III's body is re-interred at Leicester Cathedral.
Laura Hadland, senior curator for Leicester Arts and Museums Service, said: "85,000 people have visited the Guildhall exhibition so far and many of them have commented on how much the 3D skull model adds to their understanding of the battle trauma that the king suffered.
"We are hopeful that this higher-resolution model will take this understanding even further."
Plans to open a Richard III museum next to the site where the king's body was found were recently unveiled and should be completed by March.