Five-year-old boy walks home after being locked out of school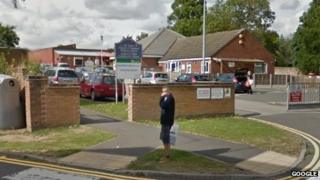 A Leicestershire primary school has reviewed safety procedures after a five-year-old boy was locked out at playtime and started walking home.
Brandon Frances-Myers climbed over a fence and began walking home after he was accidentally locked out of All Saints Primary School in Wigston.
His mother Esther Frances-Myers said she dreaded to think what could have happened.
The school said it had taken "swift action" to prevent it happening again.
'Lucky nothing happened'
"How could they not realise he was gone?" Mrs Frances-Myers said.
"It's not a massive class - it's 27 children in the class and there were three members of staff on at that time looking after that class and nobody noticed he'd gone.
"I'm lucky that the situation is that he's all right and that nothing happened. Anything could have happened to him."
Brandon was left stuck in the playground at the end of the afternoon break when a door accidentally locked and he could not get back in to the building.
He climbed over a fence and set off for home. A family friend spotted him and reunited him with his mother.
Mrs Frances-Myers told BBC Radio Leicester when she went to the school to pick up her other children, staff still had not realised Brandon was gone.
She is now asking the school to ring her when her son goes out to play and is refusing to let her children take part in sports day or go on trips.
In a statement, head teacher Jenny Marshall said: "Swift action has been taken involving the appropriate agencies and our safety precautions have been strengthened.
"The safety of pupils is paramount and it has been reinforced to all staff the essential requirement for vigilance and supervision of pupils at all times."