Leicester train jump man 'utterly reckless'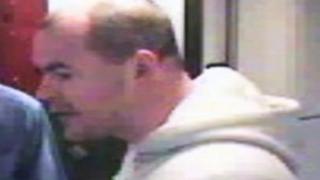 A man who jumped from a train and ran across the tracks outside Leicester railway station has been described by police as "utterly reckless".
British Transport Police (BTP) said the man boarded a Leicester to London train before realising the service did not stop at Kettering.
He then pulled the emergency cord, jumped off and ran up an embankment.
Insp Andy Selby said: "He is extremely lucky he wasn't injured or even killed."
He added: "It was a very reckless and dangerous act, risking not only his own life but those of other people at a very busy train station.
"To misuse the equipment in this way, simply because he had boarded the wrong service, was highly irresponsible and he's lucky that we are not looking at a far more serious incident here."
Police are appealing for anyone who recognises the man to get in touch.
As well as a fine, the man could in theory face up to six months in prison for trespass, police said.