Richard III visitor centre plans unveiled in Leicester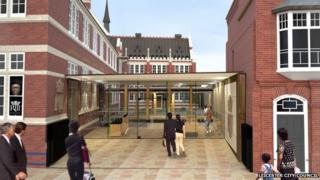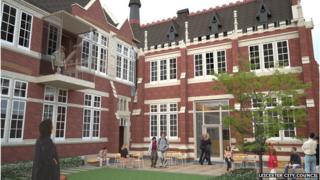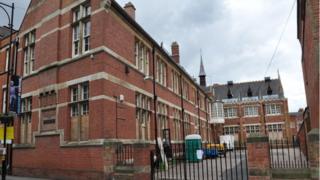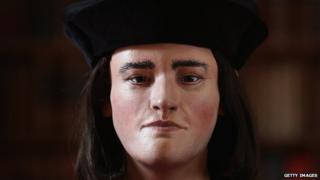 Plans to open a Richard III museum next to the site where the king's body was found in a car park have been unveiled.
It is hoped the £4m centre, called Richard III: Dynasty, Death and Discovery, will bring 100,000 people and £4.5m into Leicester in its first year.
A temporary exhibition at the nearby Guildhall has attracted almost 80,000 visitors since opening in February.
The remains of the king were discovered last August in a council car park.
Leicester City Council bought the 150-year-old former Alderman Newton School last year. It is next to the site of the old Greyfriars Church where archaeologists made their discovery.
There will be two floors of exhibition space and a covered area allowing access to the grave.
There will also be a courtyard garden, glass entrance hall, viewing balcony and cafe.
Leicester mayor Peter Soulsby said: "The discovery of King Richard III is one of the most important archaeological finds of recent times.
"In its first year alone, this new visitor centre is expected to attract about 100,000 visitors and bring economic benefits to the city worth up to £4.5m.
"It is clearly a major investment which will bring a huge boost for the local economy, bringing people into the city, and benefiting local businesses."
Specialists have been brought in from around the UK to transform the derelict building and the plans have been welcomed by conservationists in the city.
Stuart Bailey, from Leicester Civic Society, said: "I'm very impressed, and the concept of being able to go on to this balcony and see an interpretation of medieval Leicester is absolutely enthralling."
A planning application will be submitted on Friday and, if successful, work will start in August following further archaeological investigations of the old Greyfriars Church, some of which is under the building.
The aim is to complete the visitor centre by March in time for the reburial of Richard's bones at the neighbouring cathedral.