Fire at Leicester paper and plastics factory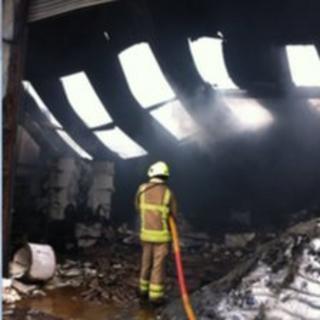 Parts of a factory in Leicester have collapsed after a fire burned through the night.
The fire at the Reusable and Disposable Catering Supplies plant in Trevanth Road started shortly before midnight on Tuesday.
Up to 55 firefighters tackled the blaze at the 10,000 sq ft factory in the Troon Way Industrial Estate.
Incident commander Matt Walters said officers would remain at the scene on Wednesday for "dampening down".
He said the first crews to the scene found the building fully alight.
"Firefighters have been battling it through the night and smoke is still coming from the middle of the building where it has collapsed," he said.
A building inspection and investigation into how the fire started are expected to take place later.