Murder accused Iain Lawrence 'feigned unconsciousness'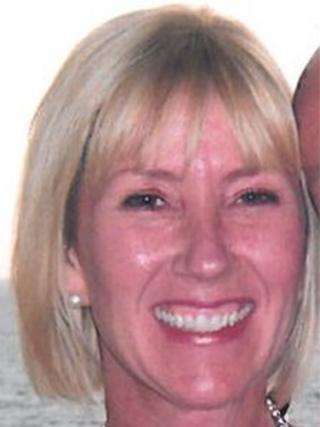 A husband accused of killing his estranged wife by driving into a tree "pretended" to be unconscious after the crash, a court has heard.
Former pilot Iain Lawrence, 53, of Leicester, denies murdering 47-year-old Sally Lawrence after a row over the finances involved in their divorce.
Mrs Lawrence died of head injuries following the crash in October 2012.
Witness Peter Hawkins told the court he thought Mr Lawrence was squeezing his eyes shut pretending to be unconscious.
Skid marks
Mr Hawkins, a retired firefighter who was one of the first people to arrive at the crash scene in Oadby, said he did not believe Mr Lawrence was really unconscious.
He said Mr Lawrence looked like a child who was squeezing his eyes shut pretending he was asleep.
Mr Hawkins said he also did not see any skid marks on the road.
Crash investigator PC Tim O'Donnell told Leicester Crown Court he found the crashed car still in fifth gear with the speedometer stuck at 52mph (84km/h).
PC O'Donnell was asked about claims from the defendant that his leg had locked seconds before the crash, pushing the accelerator pedal down.
Investigators had simulated that scenario and said it was not enough to cause the vehicle to accelerate out of control, PC O'Donnell said.
There was evidence the brakes had not been applied and the car had been steered straight at the tree, he added.
Mr Lawrence was not seriously hurt in the crash.
The trial continues.