Hinckley regeneration: Sainsbury's 'pulls out' of £80m plan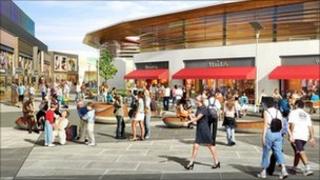 An £80m Leicestershire town centre regeneration project is at risk after Sainsbury's said it was pulling out.
The supermarket was central to a revamp of Hinckley, 14 years in the making, but in a letter to the council dated 29 April it withdrew support.
MP David Tredinnick questioned why details were only now being made public, accusing the council of suppressing information.
The council and Sainsbury's said talks were under way.
The proposals are for a new supermarket, bus station and cinema multiplex which would have "transformed" the town centre.
'Not dead in the water'
But the letter said Sainsbury's - which closed a store in Hinckley more than a year ago - now considered the project too costly and that there was a lack of demand for units in the development.
A copy of the letter was leaked to the BBC.
Mr Tredinnick, MP for Bosworth, said: "I'm very concerned about this. The letter is dated 29 April which is three days before the local elections. This information has clearly been suppressed."
He said he believed if the information had been released before the election the result could have been different.
But councillor Stuart Bray, Liberal Democrat leader of the Hinckley and Bosworth Borough Council, said he did not receive the letter until after the election on 2 May.
"Things have moved on since the letter. If, and it is a big if, they do pull out then obviously that is extremely disappointing," he said.
"Even then it is not the end of the scheme. Sainsbury's is not the only potential anchor tenant
"The deal is certainly not dead in the water."
Sainsbury's confirmed the council has requested follow up talks which are now under way.