Spitfire pilot pulling 'wrong lever' caused accident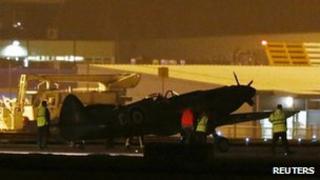 Pilot error was to blame for an accident involving a Spitfire which forced the closure of East Midlands Airport, in January.
The WWII aircraft had landed safely - but the undercarriage then collapsed, causing the propeller to shatter.
A report into the incident, by the Air Accident Investigation Branch (AAIB), concluded the unnamed pilot had inadvertently pulled the wrong lever.
It took several hours to clear debris from the runway.
The AAIB report said the pilot, who was unhurt, had intended to pull the lever to retract the flaps but instead pulled the control for the undercarriage, which is located on the opposite side of the cockpit.
The aircraft's propeller, lower engine cowling, both radiator fairings, left flap, left aileron, and underside of left wing were damaged.
Active service
Rolls-Royce bought the aircraft in 1996 and it underwent a major overhaul in 2010 - the first since it was built.
The Spitfire, PS853, was delivered to the RAF 68 years ago and designed as an unarmed, high-altitude reconnaissance aircraft.
It was engaged on active service with 16 Squadron until the end of the war and participated in Operation Crossbow to detect German launch sites.
It remained on duty in Germany until March 1946 when it returned to the UK and was placed in storage.
More recently the aircraft, which is kept in a dedicated hangar at the airport, could be seen at displays between April and October and went through annual inspections in the winter months.