Leicester schools halal lamb burger contained pork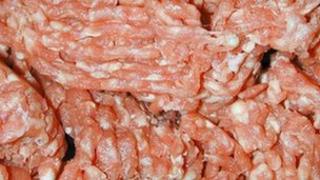 Halal lamb burgers have been removed from schools in Leicester after tests on a sample burger found traces of pork.
The city council said DNA tests were carried out on the burgers because of the horsemeat scandal.
The sample burger was one of a batch made by Doncaster-based Paragon Quality Foods Limited in January.
In a statement, the company said its site was "pork free" and it had never knowingly bought or handled pork.
Halal products are used in 24 schools in Leicester but the burgers have only been supplied to 19 schools.
Assistant city mayor Vi Dempster said: "I am appalled by this situation. It is disgraceful that none of us can have confidence in the food we eat."
'Sensitive matter'
The council is taking "urgent legal advice" about its next steps.
Ms Dempster said letters had been sent to 6,000 families that could have been affected.
"We need to ensure that the appropriate action is taken against whoever is responsible for this," she said.
"We should all be able to have confidence in the food we are eating and clearly this is a particularly sensitive matter for the Muslim community and we recognise that."
Trevor Pringle, the city council's director of young people's services, said all burgers supplied by the company had been removed from its stock as a precautionary measure while further investigation is carried out.
"We will not be purchasing any further products from this supplier," he said.
"We have made it clear to our suppliers that this is totally unacceptable, and we are taking urgent legal advice about the next steps."
'Satisfied with procedures'
All other halal products used in the council's production kitchens are supplied by a different company.
Metin Pekin, managing director of Paragon Quality Foods, said: "We have carried out a full traceability of the product in question and have provided this information to the relevant enforcement authorities..
"We are working with Doncaster Borough Council on a daily basis to provide all information requested. They are fully satisfied with our practices and procedures."
The company said it would not comment further until it received the results of further tests.