Fossil finds in Leicestershire 'absolutely world class'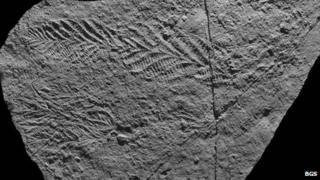 Geologists say thousands more fossils exist at a Leicestershire site than previously realised.
The fossils, which are almost impossible to see with the naked eye, were found at Charnwood Forest.
Scientists from the British Geological Survey, in Nottinghamshire, made casts of the fossils which are on display at New Walk Museum in Leicester.
In 1957, schoolboy Roger Mason famously found one of the world's earliest-recorded fossils at Charnwood.
The scientists discovered the fossils by painting silicone rubber on to rock surfaces.
They let the silicone set, peeled it off and brought it back to the labs where they made casts of the fossils to study them.
"By using the silicon moulds we have discovered there are literally thousands of fossils and they are gobsmackingly beautiful," said Dr Phil Wilby, team leader.
"They are absolutely world class. Some of them are substantial in size but it's almost impossible to see them in the forest because they only become visible when the sun is at the right angle."
Until the project began, five years ago, only a handful of fossils had ever been discovered at Charnwood.
"The fossils at Charnwood were considered so important because it was the one place in the world where we could definitively say fossils were of Precambrian age," added Dr Wilby.
The scientists have used isotopic dating to determine how old the fossils are.
It is believed they date back as far as 570 million years.
Geochronologist Daniel Condon said: "The level of detail you can see is now comparable to what you can see at some of the best sites in the world, such as Newfoundland."
The team is now debating how the fossils fit into the history of life.
Dr Wilby describes the fern-like imprints as "pre-animals".
"They are not plants or fungi but they are some major higher order of organisms," he said.
He believes the community was killed en masse.
"It has been frozen in time," he said. "The obvious comparison is with Pompeii."