Michelle Mills jailed for Edward Miller's murder in Scalford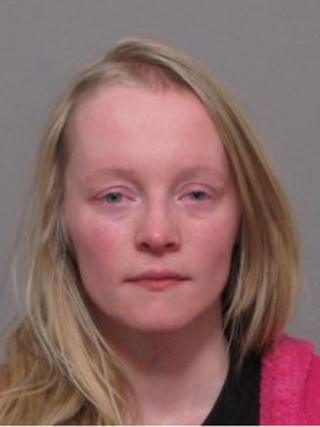 A mother of two who portrayed herself as a "fearful victim" of domestic violence has been given a life sentence for stabbing her boyfriend to death.
The judge said Michelle Mills, who also claimed to have heard voices telling her to stab Edward Miller, had failed to "hoodwink" the jury.
The 31-year-old stabbed Mr Miller 24 times at their cottage in Scalford, Leicestershire, on 6 November.
She was found guilty of murder at Lincoln Crown Court.
Judge Michael Heath set a minimum term of 15 years before she can be considered for release on parole.
He told Mills: "I am sure that you have taken knives to previous partners on three occasions and that you told Edward Miller's father that you had [previously] taken a knife to Edward Miller.
'Brutal, ferocious, sustained'
"Most of your previous relationships were also volatile and throughout this trial you sought to portray yourself as a fearful victim of domestic violence.
"You did your best to hoodwink the jury but they saw through you."
The court heard Mills became angry with her 20-year-old boyfriend after she found cannabis at their rented cottage in King Street.
She was concerned the cannabis, which belonged to Mr Miller, might prevent her from regaining residence of her children.
She picked up the largest knife available and stabbed him in a "brutal, ferocious, sustained attack", the judge said.
One of the 24 wounds was 22cm deep - the full length of the blade.
She used such force that there were injuries to his bones and the handle of the knife broke away from the blade.
But Judge Heath believed the attack was not premeditated, and said Mills intended to seriously injure her boyfriend rather than kill him.
'Alien abductions'
"Your relationship with him was volatile," he said.
"You loved each other but you were jealous of each other and you frequently argued. There was violence on both sides."
Mills claimed during the trial that she had experienced being abducted by aliens.
She was interviewed by several psychologists who gave varying assessments.
The judge told her: "I conclude that you have an emotionally unstable personality disorder of the borderline type.
"I detect no remorse in you. You have only been concerned, and are only concerned, with yourself."