Richard III church to be revealed in excavation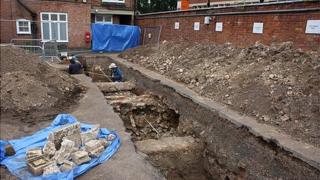 The dig which uncovered the remains of Richard III under a car park in Leicester is to be extended.
Richard was killed at the battle of Bosworth in 1485 and buried in a city church which was later demolished.
A University of Leicester team found the kings's grave in August 2012, although the identity was not confirmed until February this year.
Archaeologists will return to the site this summer to uncover more of the building in which he was laid to rest.
Richard, the last of the Plantagenet dynasty of kings, was buried in a hastily cut grave in the church of the Greyfriars.
Last summer archaeologists cut three, 20 metre (66ft) long trenches north to south in the car park and an adjacent school yard.
Richard Buckley, who lead the project, said: "While we were very lucky in that we found Richard's grave, we didn't uncover much of the church itself.
"We could make some deductions about the complex but it was a bit of a join-the-dots exercise."
The new dig, due to start in July, will uncover much of the eastern end of the church, including the area where Richard was found.
Mr Buckley added: "This will give us the chance to investigate the fuller story of the Greyfriars area, including more graves which were identified in the previous dig but not fully excavated."
The area which can be opened up is restricted by standing buildings and a modern road, which crosses the site.
The university has applied for permission to remove part of a listed wall which separates the car park from the grounds of a former school.
The city council is currently converting the school into a Richard III visitor centre, which it hopes to open in time for the reinterment of the skeleton in May 2014.
City Mayor Peter Soulsby said: "Our aim is for the gravesite located within 6-8 St Martins to become part of the new visitor centre, and the removal of part of the wall will be necessary to make this happen.
"This application is therefore a step forward in the development of the site."
A viewing platform will be installed so the public can watch the dig in progress.