Burrough Hill dig reveals 'sizeable' amount of Iron Age artefacts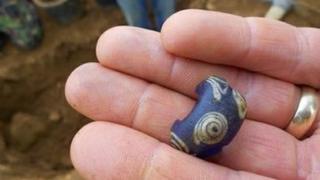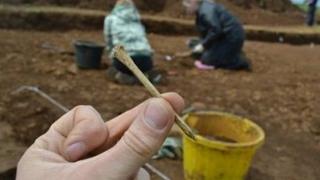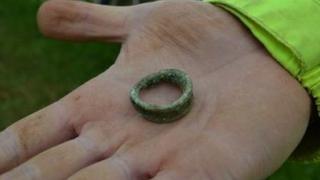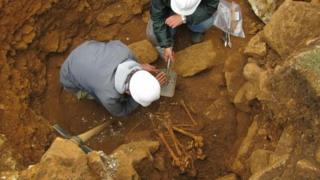 Ancient metal artefacts found at a Leicestershire site could go on permanent display, archaeologists say.
The dig at Burrough Hill, near Melton Mowbray, has uncovered one of the biggest collections of Iron Age metalwork found in the East Midlands.
The finds include spears, knives, iron brooches, reaping hooks and the decorative bronze trim from a shield.
Burrough Hill is the site of an Iron Age fort but no major excavation had taken place there since the 1970s.
'Useful insights'
The current five-year dig is being run by the University of Leicester.
Dr Jeremy Taylor, the project director, said: "It's certainly a sizeable collection and it's giving us some useful insights.
"We have excavated a series of houses and storage pits and found about 100 pieces. Many of the finds date from between the 4th and 1st Centuries BC."
Dr Taylor believes iron was not smelted on the site but he said they have found evidence that blacksmiths at Burrough may have shaped it into the final objects.
He said the site had not been searched for some time. "Burrough Hill is a scheduled monument and, because it hasn't been under threat from development, it's just sat there quietly for about 40 years," he said.
The team's final dig will take place in June and July, after which Dr Taylor said he hopes the finds will be exhibited permanently in Melton.
"Each year we have a temporary exhibition at Melton Museum and we have been working closely with Melton Borough Council and Leicestershire County Council to create a permanent exhibition," he said.
A Leicestershire County Council spokesman said: "These finds at Burrough Hill by the University of Leicester are of significant importance.
"We would hope that in the future we would be able to display these items locally."