Loughborough relief road start date confirmed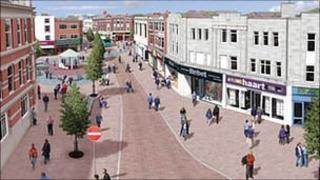 A start date has been set for the construction of a £15m Leicestershire relief road, after funding was agreed.
Local Transport Minister Norman Baker announced final approval for the scheme in Loughborough last week. It got a conditional go-ahead in 2011.
The county council has now confirmed the main work will begin in May with a planned completion date of early 2015.
The project will also turn the A6 in the town centre into a pedestrian zone and improve the A6004 junction.
Preparation work has been going on for some time and several buildings have been demolished.
The magistrates' court car park has been partially closed and will shut permanently at the end of the month.
An exhibition is planned for April to enable the public and other interested parties to meet the contractor and ask questions.
Lesley Pendleton, county council cabinet member for environment and transport, said: "I'm delighted that the government has approved the funding for this scheme and I hope it will attract further investment, development and regeneration, and help to secure a prosperous future for Loughborough."