Richard III tomb plans revealed by Leicester cathedral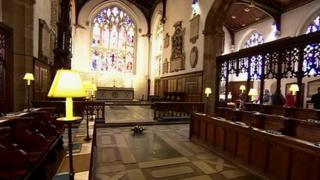 Richard III could be laid to rest under a simple slab, under plans revealed by Leicester Cathedral officials.
The notorious king was killed in 1485 and his remains were found under a Leicester car park in September.
The diocese wants to put what is known as a ledger stone in the chancel and said proposals for a larger monument were "disproportionate".
A consultation will now be held, with a final design expected in October ahead of a reinterment due in May 2014.
Richard was killed at the battle of Bosworth by the forces of the future Henry VII.
He was hastily buried in the church of Greyfriars but the exact location was lost when the building was demolished in the 16th Century.
Despite an ongoing claim from York, the remains are expected to be laid to rest in Leicester, just a short distance from where they were rediscovered.
'Very disappointed'
Leicester Cathedral's governing board, known as Chapter, has drawn up a series of ideas and principles to guide architects who will come up with the final design.
It said: "(Our preference) is to mark the place of burial with a ledger stone, in line with the form of grave marker used most commonly for monarchs in the modern period.
"Such a gravestone might be appropriately framed with a decorative border to ensure that its place within the space is properly articulated. While other forms of grave, tomb or memorial cannot be ruled out prior to consultation; it is unlikely that large table-top tomb or effigy would be acceptable."
Officials said the cathedral was a "modest" building which might be dominated by a large monument and they were keen to avoid anything which was a "pastiche".
Canon Barry Naylor, acting dean of Leicester cathedral, said: "We hope it will be a place of dignified simplicity which will give honour to Richard by the prominent location it has, close to the holiest place in the cathedral.
"One of the things we have to do at the cathedral is to consider the whole life of the cathedral and (we need) a tomb which will fit into that and we think a ledger stone will be more appropriate rather than a big edifice."
The Richard III Society, which was closely involved in the project to find the grave, had also put forward its own design for a tomb.
Its East Midlands Branch Secretary, Sally Henshaw, said she was "very disappointed" their idea for a large, limestone table-top design had been shunned.
"There has been a ledger stone dedicated to Richard III in Leicester cathedral since 1982, before his remains were discovered.
"To simply have another stone does not, I think, really reflect his status as an anointed king, the last of the Plantagenets and his warrior death.
"I think people who will come from all over the world, who have been fascinated by the story, will be disappointed".
As part of the plans the cathedral also said it wanted to renovate its gardens and remodel the building's interior, while retaining its primary function as a place of worship.