Richard III and arts venue 'strengthen' Leicester culture bid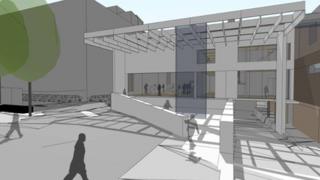 The mayor of Leicester hopes a new arts venue and the discovery of Richard III will strengthen the area's bid to become the next UK City of Culture.
The 11 contenders for UK City of Culture 2017 were announced by Culture Minister Ed Vaizey on Wednesday.
A permanent Richard III visitors' centre is expected to open in Leicester next spring.
The University of Leicester hopes to open its new contemporary arts venue in early 2015.
Mayor of Leicester Sir Peter Soulsby said: "This will be another great quality cultural attraction in Leicester.
"Added to the amazing discovery of Richard III, it further strengthens Leicester's claim to become a City of Culture."
If successful in its bid to become UK City of Culture, Leicester will be the second place to be given the title.
The government-led programme is inspired by Liverpool's time as European Capital of Culture in 2008.
Arts Council England recently agreed to provide £600,000 towards the university's new arts venue.
Called New Galleries Wing, it will be an extension to the University of Leicester's Embrace Arts centre.
The university still needs to raise £900,000 towards the £1.5m venue, which will showcase contemporary visual art and sculpture.
The remains of Richard III were discovered in an archaeological dig under a car park in Leicester last year.
A Richard III exhibition at the city's Guildhall has already attracted thousands of visitors, and a former school is being turned into a permanent visitors' centre.