Grace Road sports centre plans go on display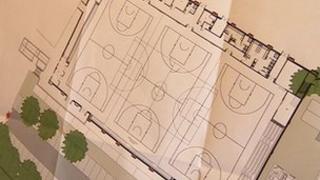 Plans to build a multi-purpose sport centre in Leicester have gone on public display for the first time.
The £2.5m project on empty land at Grace Road cricket ground involves the county cricket club, Leicester Riders and Leicester College.
It will provide a permanent home for the basketball club and flexible sports facilities for the community.
The project needs Sport England funding but the cricket club already has £1m to build 14 apartments at the site.
Leicester Riders head coach Rob Paternostro, said: "We are pretty fired up about it. We think the plans look good and we want to discuss them with fans.
"We feel the right people are behind this and we are very optimistic."