New firm to help trainee workers after Stride collapse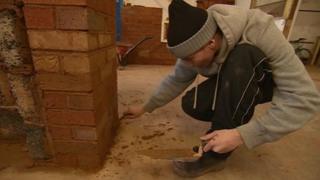 Organisations are backing plans to help 270 young people left without jobs and training after the collapse of a Leicester firm.
The company Stride, taught bricklayers, car mechanics, beauticians and shop workers from across Leicestershire.
It ceased trading after having its bank account frozen last week. The company said it owed £200,000 in unpaid taxes.
At a meeting on Tuesday, support was offered to help trainees find alternative courses and work.
'Rise from the ashes'
The meeting, called by Skills for Enterprise - which provides learning opportunities in the Leicester area - was attended by organisations, including Leicester College, the city council and the Prince's Trust.
Chris Shaw, development director at Skills for Enterprise, said: "I think Stride have done a lot of good work in Leicester down the years - they have 270 trainees and apprentices who need support.
"I thought it was absolutely right that organisations in the city, and county, came together to see if we could provide some assistance."
He added: "Everyone was devastated about the demise of Stride - they've been an important player in the youth employment market for quite some time.
"We are now hoping a new company might rise from the ashes - which will also support some of the trainees - and everyone who was at the meeting has pledged to help that company go forward.
"We will also be contacting each and every trainee to see if we can place them with other providers."