Percy the mis-sold 'micro pig' finds new home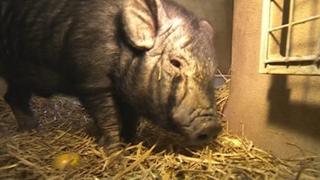 A new home has been found for an abandoned pet pig found by police as he roamed city streets.
Officers on patrol came across Percy as he trotted down a road in Leicester on New Year's Day.
He was malnourished and had skin complaints, and the RSPCA believes he had been mis-sold as a micro pig before growing too big.
He is now healthy after being cared for by the charity and is set to go and live on a small Nottinghamshire farm.
When he arrived at the RSPCA's Woodside Animal Centre he had been living off mainly a diet of bread and was reluctant to eat anything else.
Centre supervisor Lee Meyer said: "He may have been taken in as a cute little baby and the people didn't realise how big he was going to be."
He is thought to be only eight months old.
Ms Meyer added: "He might have been mis-sold as a micro pig. I think it just comes down to ignorance sometimes."