Richard III: Academic mimics voice of last Plantagenet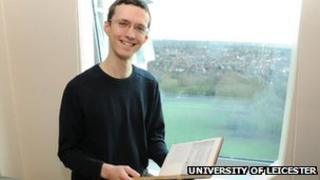 An academic has recorded what he thinks could be the accent of Richard III - and was surprised to realise he may have talked with a West Midlands twang.
Dr Philip Shaw, from the University of Leicester, studied two letters written by the last Plantagenet king.
The spellings gave him clues as to how Richard might have spoken.
But Dr Shaw said the accent was probably not the same as the distinctive one associated with modern-day Birmingham.
He suggested that Richard could have picked up his accent from staying at Ludlow Castle in Shropshire, which his father owned.
On Monday experts from the University of Leicester revealed that bones uncovered from a city centre car park last year were those of Richard III.
Someone from Dudley
Dr Shaw, from the university's English department, looked at two letters, the first written in 1469, before Richard became king, which is an urgent appeal for a £100 loan.
The second letter, from 1483, was written following his ascent to the throne and two years before his death at the Battle of Bosworth.
Since revealing his theory about the way Richard spoke, Dr Shaw has heard recordings of the opening soliloquy in Shakespeare's play Richard III sounding like someone from Dudley.
But he said he could not be more specific in terms of locating Richard's twang than the West Midlands, and believes the accent would be markedly different from the modern-day one.
Dr Shaw said: "It would have sounded very different to accents of that region today because the language has changed quite a bit since then.
"It could be he picked up his accent from staying at Ludlow Castle, which his father owned, so maybe he sounded like he was from Shropshire."
Dr Shaw said there was no standardised accent found among the nobility and royalty in the 15th Century but he was still shocked at his discovery.
"I was surprised, I didn't necessarily expect to find that part of the country, but we don't really know much about his education or where he lived as a child."