Riliwanu Balogan inquest rules misadventure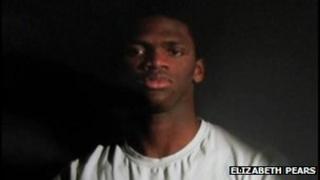 A jury recorded a verdict of misadventure at an inquest into the death of an immigration detainee found hanged at a young offenders' institute.
Riliwanu Balogan was found in his cell at Glen Parva in Leicester the day after his 21st birthday. He died a week later in hospital.
The inquest at Leicester Town Hall was told Mr Balogan said he had nothing left to live for.
Coroner Martin Gotheridge described the hearing as a "harrowing inquiry".
'Stressful events'
Mr Balogan was transferred to Glen Parva in 2011 after completing an 18-month sentence for wounding and was awaiting deportation back to Nigeria.
The jury was told he came to the UK aged seven and had a troubled childhood, much of it spent in institutions.
The morning he was found hanged, Mr Balogan was moved to a safe cell because he was considered a suicide risk.
Dr John Grenville, who carried out a clinical review following the death, said: "Even under continuous supervision his chance of carrying out suicide would have remained high."
Martin Gotheridge, coroner for Leicester City and South Leicestershire said: "I want to express my sympathies to the prison staff. It can be very disturbing for them even if they are at no way at fault.
"I encourage them to continue to take care of the people in their charge and to not be put off by the stressful events relating to this death."