East Midlands Airport closed by snow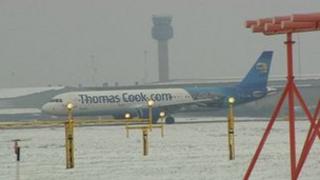 East Midlands Airport had to close and schools were shut as snow caused problems in Leicestershire on Monday.
Up to 5cm (2in) of snow fell on Sunday night and around 150 schools closed in Leicestershire and Rutland.
Leicestershire Council said gritters had been out all weekend and over Sunday night.
Flights at East Midlands Airport resumed at 14:05 GMT. Poor conditions had closed the runway during the morning.
Passengers have been advised to check with their airline for updates.
Level crossing crash
An airport spokeswoman said landings and take-offs were suspended while snow was cleared and checks were carried out.
On the A46 northbound, a jack-knifed lorry caused delays for motorists on Monday morning.
Rutland Council said conditions were worse in the west and south of the county.
A spokesman said Glaston Road, Uppingham, was closed to through traffic on safety grounds as a water leak and freezing conditions were making conditions dangerous.
An unmanned level crossing on Langham Lane, Ashwell, is also shut after a vehicle and crashed into the barriers.
The road will remain closed for several days while Network Rail obtains parts for repairs.