East Midlands Airport suspends flights to clear snow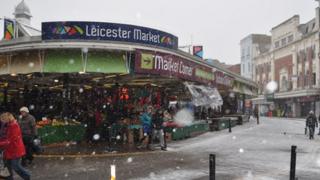 More than 30 Leicestershire schools closed and East Midlands Airport suspended flights because of the wintry weather.
Steady snow fell from about 11:00 GMT on Friday, prompting the airport to close while the runways were cleared and checks carried out.
Passengers are asked to check with their airlines and travel operators.
The worst of the snow was expected on Friday afternoon, reaching depths of up to 5cm (2in), but more is predicted.
'Suspended flights'
An airport spokeswoman said flights had been "temporarily suspended" while snow was cleared and checks are carried out on the airfield.
"We would encourage all passengers travelling today to check with their airline or tour operator for the latest up-to-date information on their flight," she added.
East Midlands Trains said services were running as normal but advised passengers to check their train is running before travelling.
Age UK said worried people across the county had been in touch.
Tony Donovan said: "People are ringing up wanting reassurance that we are going to be around to help them should they have difficulty."
He added that if the charity could help it would.