Grand Union Canal reopens after landslide near Foxton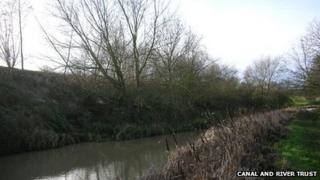 A section of canal which became blocked by a landslide has reopened to boats.
Embankment on the Grand Union Canal near Foxton, Leicestershire, slipped into the water over Christmas and blocked a 60m (200ft) stretch.
Maintenance staff have dredged a channel though the centre of the blocked canal as a temporary solution.
The Canal and River Trust believes the embankment may have become unstable because of prolonged rain which saturated the ground.
The stretch of canal is within a Site of Special Scientific Interest and any permanent work must avoid damaging the embankment further.
Jeff Whyatt, senior manager for the Canal and River Trust, said: "We can't remove all the dislodged material from the canal while the land above remains so wet.
"To do so could destabilise the embankment further and cause more slippage into the canal."