Waitrose ends Bardon distribution centre contract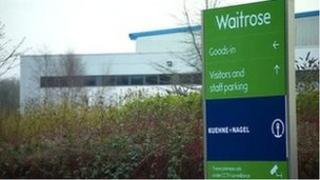 Hundreds of workers at a grocery distribution centre are at risk of redundancy after Waitrose decided not to renew one of its contracts.
There are 420 people employed at the centre in Bardon, Leicestershire.
The lease is owned by Waitrose but the workers are employed by global logistics company Kuehne + Nagel, which is consulting its staff.
A spokesperson for Waitrose said the company no longer needed the centre as it had increased space at other bases.
A Waitrose spokesperson said: "We have been building capacity in our supply chain across the country in recent times to meet the needs of our growing branch network.
"As part of this development we have taken the decision not to renew our contract with Kuehne + Nagel at the Bardon regional distribution centre."
The contract was due to end on 31 May but has been extended to 1 September.
Waitrose has used the site since April 2005 and the contract with Kuehne + Nagel has been in place since then.
'Devastated'
The two companies will continue to work together at other distribution sites in the UK.
Councillor John Cotterill, who represents Bardon on North West Leicestershire District Council, said: "Coming on top of other job losses in the area recently I'm quite devastated by this.
"I just hope that this isn't a trend. We as a council will do absolutely everything we possibly can."
Earlier in the week camera chain Jessops announced that jobs were to be lost at its head office in Leicester, after administrators were appointed.
An estimated 1,100 council posts will be cut at Leicestershire County Council over the next four years under budget proposals announced this week.
Andrew Bridgen, Conservative MP for North West Leicestershire, has said he will meet the management of Kuehne + Nagel shortly to discuss the future of the Waitrose distribution centre.
Claire Hall, spokeswoman for Kuehne + Nagel, said: "As part of a review of their logistics needs, Waitrose has decided not to renew its contract with us at the Bardon regional distribution centre beyond 1 September.
"Our relationship with Waitrose continues at a number of other distribution centre sites namely Theale in Berkshire and Celestia and Brinklow in Milton Keynes.
"We are in the process of consulting with our staff and while this is ongoing it would be inappropriate to discuss further."