Rutland councillors could face harassment injunction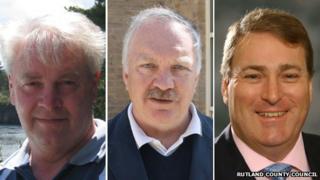 A Conservative-controlled council is to seek an injunction against three of its councillors for alleged harassment.
Rutland County Council has voted to set aside £90,000 for legal action against independents Nick Wainwright, Richard Gale and David Richardson.
The three members of the Rutland Anti-Corruption group (RACP) are accused of harassing senior officers in a series of requests for information.
Mr Richardson denied the charges and said he did not fear legal action.
In October, law firm Bevan Brittan was brought in to advise the council over a series of email requests by the RACP for information about the authority's actions.
It recommended that action could be taken on the grounds of harassment, and that the authority could sue for defamation under the Localism Act 2011 - because several of the requests were made in emails to every councillor.
'Lance this boil'
At Thursday night's meeting, the council deferred a decision on potential defamation action, but agreed to seek the injunction to prevent harassment of chief executive Helen Briggs and other officers.
It agreed to allocate £90,000 for this purpose, and also to ensure that all communications from the group to the council be sent to a single email contact.
In addition, it said it would support the chief executive and other officers if they wanted to take personal legal action against RACP for harassment.
Speaking after the meeting, council leader Roger Begy said: "This is not an evening that this council wants. This is not an evening this council should be having."
He added: "We needed to lance this boil, that our officers had felt very threatened."
'Statutory right'
Mr Richardson denied "bombarding the council with requests" and said he was not worried about legal action.
He added: "You do not worry if you believe you stand on the side of truth. We are more than happy to share all the information with anyone, in any court.
"The problem we have had is that the county council has not been prepared to share the information, that we think we have a statutory right to know, with us."
A spokesman for the Department of Communities and Local Government said: "This is now a matter for the courts.
"The council will need to prove to a judge - and indeed to the wider public - that this action and expenditure is justified."
Correction 11 January 2013: This story has been amended to make clear that the action the council is taking is to seek a legal injunction for harassment.