Porn councillor David Sprason to face no further suspension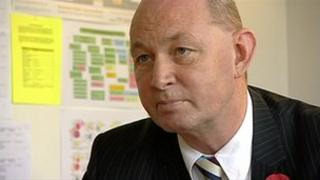 A former county council deputy leader who stepped down over a pornographic DVD found in his work laptop will face no further suspension from his party.
David Sprason stepped down in November as Leicestershire County Council deputy leader and was suspended from the county Conservative Group.
Mr Sprason must write a full letter of apology to the council and is banned from becoming deputy leader again.
His party said he had shown "a serious lack of judgement".
The DVD was found in Mr Sprason's laptop in 2007 but the matter only emerged last year after a letter by a monitoring officer was leaked.
'Damaged reputations'
In a statement, the Leicestershire County Conservative Group said: "In view of Mr Sprason's willingness to make a full, written, public apology and the fact he has taken no part in any group activities since November 2012, the group has decided there was no need to impose a further period of effective suspension on Mr Sprason.
"Mr Sprason accepted his error of judgement had caused damage to the reputations and standing of both the county council and the Conservative Group."
A number of conditions were also imposed on Mr Sprason including a ban on him being re-appointed as deputy leader.
Simon Galton, leader of the Liberal Democrat group, the main opposition at County Hall, said: "I think his actions encouraged the story and that has made the council look foolish.
"It demonstrates bad judgement and I think it is right he is no longer deputy leader or cabinet member for adult social care."
Leicestershire Police have confirmed no crime was committed.