Richard III dig: Conclusions to be revealed in weeks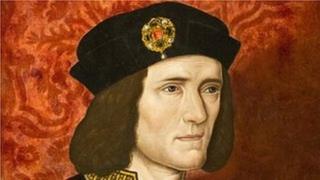 Conclusions of investigations into human remains thought to be those of Richard III are due to be revealed in the first week of February.
Experts at the University of Leicester have been analysing the bones since they were discovered beneath a car park in the city in September.
They are awaiting DNA test results before revealing their conclusions.
Circumstantial evidence points to the remains being those of the English king, the team has said.
University spokesman Ather Mirza said: "The university is expecting results of the series of tests in the next few weeks during which period the results will be analysed."
The University of Leicester has led the search for the king in association with Leicester City Council and the Richard III Society.