Catherine Junior School pupils taught in portable classrooms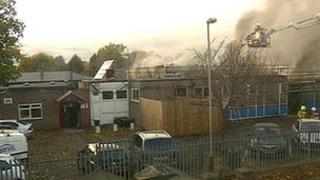 Pupils will be taught in temporary portable classrooms for about a year after workmen accidentally started a fire at their school.
The 400 children have been taught at four different schools in Leicester since the fire at Catherine Junior School on 30 October.
They were reunited earlier when they returned for a new term.
Their temporary location is next to Abbey Primary Community School, about half a mile from the damaged school.
Head teacher Joy Denning said: "Teachers have worked really hard to make their classrooms look beautiful for the children so that when they come in the children will feel happy and relaxed.
"People have been genuinely surprised by how nice it is inside."
'Stray spark'
As well as 16 classrooms the two-storey structure has facilities including a computer suite, staff room, hall, office block and library.
Leicestershire Fire and Rescue Service has established that the fire started accidentally.
Eastern fire station manager Rick Moughton said: "Workmen were repairing the roof of the gymnasium using a heat gun to melt bitumen to seal the roof.
"A stray spark ignited material in the roof space and the roof subsequently caught fire."
He said the gymnasium was "completely destroyed" and the surrounding classrooms were also damaged by fire and smoke.
"The remainder of the school was damaged by smoke from the fire," he added.