Ponnuthurai Nimalaraja: Youth detained for manslaughter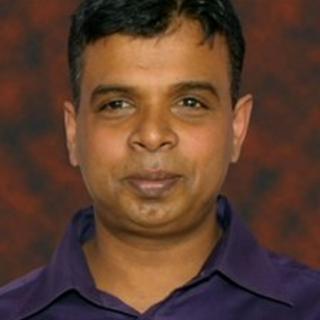 A 15-year-old boy who punched a man in the face causing him to fall and fatally hit his head has been detained for two years.
Ponnuthurai Nimalaraja, 41, died following an attack outside a Leicester shop in June.
The teenager, who was convicted of manslaughter in November, was given a two-year detention and training order at Derby Crown Court on Monday.
Father-of-two Mr Nimalaraja, known as Nimal, died a week after the incident.
Devastated
The shop assistant was helping out at the Leicester Stores, in Gipsy Lane, on 9 June, 2012 when he was attacked.
The boy, who was 14 at the time, denied manslaughter and said it was self-defence.
But the prosecution said he was part of a gang and had been involved in anti-social behaviour at the shop, pulling down shutters, being aggressive and looking for fights.
Speaking after the hearing, the victim's widow Mathanika said: "We have been left devastated by the events that happened that night and would like to thank the Sri Lankan community and the police for their support.
"That support has helped us to piece together our lives and we are now beginning to look forward to the future."
Det Supt Matt Hewson, who led the investigation, said: "This was a totally avoidable criminal act that has left a family without a loving husband and father.
"These circumstances are a reminder to everyone that events can escalate and have tragic consequences. I hope that Nimal's family can now begin to rebuild their life."
A 14-year-old boy, who pleaded guilty to affray at an earlier hearing, will be sentenced on 25 January.