Two Leicester traveller sites approved by mayor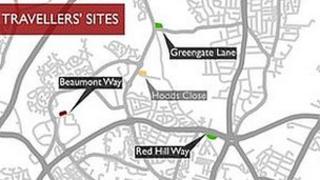 Plans for two Gypsy and traveller sites were given the go-ahead in Leicester on Monday, but a third was rejected.
It follows a public consultation answered by 1,500 people and will now see planning applications for sites at Red Hill Way and Greengate Lane.
The Beaumont Way site was rejected as unsuitable.
City mayor Sir Peter Soulsby said he recognised the sites might be unpopular but that he hoped the move would bring an end to illegal encampments.
'Hard decision'
The announcement came following a consultation which was extended because of the strength of feeling.
The council approved the two permanent sites with 10 pitches at Red Hill Way, and up to six pitches at Greengate Lane.
The number of pitches was reduced because of the consultation and the council is now investigating possible sites at Hoods Close, near Beaumont Leys, and Ratby Lane.
Campaign group LE4 has argued it would be unfair to put all three sites in the same part of Leicester.
Sir Peter said he hoped the move would stop illegal traveller pitches, which numbered more than 115 between January 2009 and September 2012.
He added: "This has been a very hard decision which was never going to be popular but the council has for years put off tackling the issue of unauthorised encampments across the city."
Planning applications for the two sites should be submitted by the spring.