Barrow-upon-Soar rail service 'normal' by Monday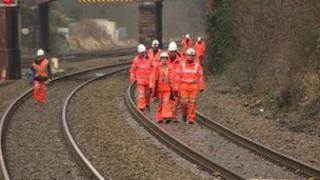 Network Rail has said it hopes services to a Leicestershire station will return to normal on Monday following a derailment over a week ago.
Trains have not been stopping at Barrow-upon-Soar after a freight train carrying stone overturned on 27 December, blocking two rail lines.
Engineers are carrying out repairs to the line on Saturday and Sunday.
Passengers have been using a rail replacement service from Loughborough for more than a week.
A landslip caused by heavy rain made the freight train tip over, blocking the two tracks.
The wagons were removed on 31 December, which were carrying 1,000 tonnes of quarry stone.
Rachel Lowe from Network Rail said it had been a big engineering challenge.
She said: "There's 330 yards of track repairs, so there's still a significant amount to do this weekend.
"But the hope is as long as that work goes well we will be able to restore services back to Barrow station on Monday morning."
Late-night trains between London and the East Midlands had been affected by the derailment but returned to normal on New Year's Day.