Porn councillor David Sprason faces two-month suspension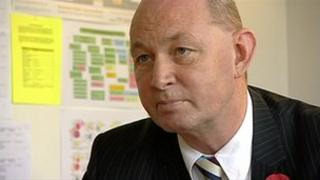 A Leicestershire county councillor faces a two-month suspension after a pornographic DVD was found in his work laptop.
Councillor David Sprason stepped down as deputy council leader in November over the DVD, which was found in 2007.
A report compiled after an internal investigation said Mr Sprason had showed "a serious lack of judgement".
Councillor Nick Rushton, Conservative group leader, said he would recommend the group endorses the suspension.
A final decision on the matter will be made by the Tory group next week.
The suspension would be reduced to a month if the councillor issues a written public apology, Mr Rushton said.
The DVD was found in Mr Sprason's work laptop in 2007, but no action was taken at the time.
The matter only emerged last year after a letter by a monitoring officer was leaked.
Leicestershire Police have confirmed that no crime was committed.