Leicester bus lane cameras raise almost £450,000 from fines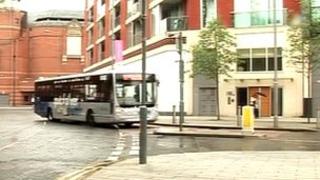 Almost £450,000 has been raised by a city council in four months from fines for driving in two bus lanes.
Leicester City Council introduced cameras in Charles Street and Causeway Lane in July and caught almost 20,000 drivers in the first four months.
Fines range from £30 to £90, bringing in £438,181 to the council's coffers between July and October.
Transport officials said the routes were clearly signposted and the scheme was aimed at cutting congestion.
The council said it had taken the expected profit from the scheme into account in the budget for the current financial year, investing it in subsidised bus routes.
Andrew Thomas, head of traffic management at the council, added: "We have to find the money from somewhere. This money from bus lane enforcement - from fines - helps people access public transport."
Rising fines
The cameras were introduced in July, catching 6,049 drivers that month and raising £82,625.
In August, 4,365 tickets were issued and £109,014 was paid in fines while September saw 4,228 fines and £122,860 income.
And in October, 4,592 people were caught with £123,682 brought in.
Some fines are issued one month and paid the next and can rise if not paid immediately.
The council is considering installing cameras in Rutland Street and Aylestone Road.