New Year Honours for Leicester Caribbean Carnival fundraiser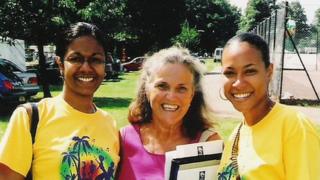 A 71-year-old woman has been appointed MBE for services to the Caribbean Carnival and to the community in Leicester.
Janet Gaskell has raised many thousands of pounds for the multicultural event since it began in 1985 and now also organises the artists and bands.
Ms Gaskell is also treasurer of her local Cancer Research branch and chair of Leicester's Victim Support Group.
She said she was amazed and humbled to make the New Years Honours list.
"I'm quite amazed but I guess everybody says that when they receive something." she said.
"Although I feel very proud... I'm quite humbled because obviously you work with other people... it's only through joining with a team you get anything achieved."
She was described as having made a difference to people in the community less fortunate than herself over a period of 30 years.
Other Leicestershire MBE recipients in the New Year Honours list included Nilima Devi for services to dance, and Mark Andrew Suffolk for services to manufacturing.