East Midlands derailment: Stone spill causes delays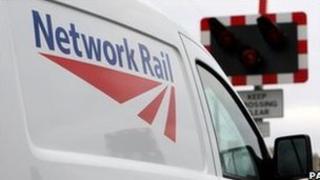 A freight train carrying stone has derailed in the East Midlands, blocking two rail lines.
The service from Buxton in Derbyshire to Ely in Cambridgeshire derailed in Leicestershire on Thursday morning.
Passenger trains are still able to use two other lines in the area but are not stopping at the Barrow-on-Soar station.
East Midlands Train (EMT) is operating a replacement bus service between Barrow-on-Soar and Loughborough.
The mainline service between London and Sheffield was not affected by the derailment, an EMT spokesman said.
Work to recover the derailed freight carriages is under way and is expected to last several days.
"It may take a few days to completely remove the carriages from the two lines," an EMT spokesman said.
No-one was injured in the incident.