Rape accused Michael Charles died after court collapse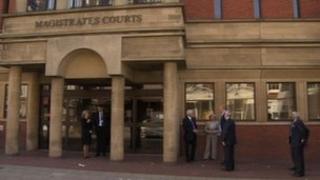 A man due to face sex assault charges died after he was found collapsed in a Leicester court cell.
Michael Charles, 59, of Melton, was about to appear before magistrates on Saturday accused of rape, attempted rape and indecent assault.
The offences were alleged to have taken place in the Syston area between 1983 and 1984.
Police said his death was not being treated as suspicious and an inquest was opened and adjourned on Thursday.
Victims informed
Mr Charles was found collapsed in his cell at about 10:15 GMT by security staff at Leicester Magistrates' Court on Saturday.
He was taken to Leicester Royal Infirmary but was later pronounced dead.
He was accused of rape, attempted rape and three counts of indecent assault against three women.
He was also charged with attempted rape of a 16-year-old girl.
A police spokeswoman said: "The four victims in these cases have all been spoken to and made aware of Mr Charles' death and the fact there will now no longer be a prosecution.
"We have also spoken to Mr Charles' family and answered any questions that they had in relation to the investigation."
The incident was referred to the Independent Police Complaints Commission but it was decided there is no need for any involvement and the investigation was passed back to the Leicestershire force.
A hearing into his death will be held in 2013.