Leicester's Summer Sundae music festival set to be 'rested'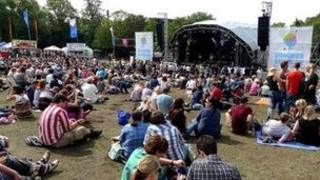 An annual festival that attracts thousands of music lovers to De Montfort Hall in Leicester is set to be rested for 2013.
It was decided the 10-year-old Summer Sundae Weekender event would take a year off following a consultation.
Promoters Concert Clinic said 2012 had been difficult for independent festivals due to the Olympics, recession and the bad weather.
De Montfort Hall has planned to stage music events in its place.
Rob Challice, director at Concert Clinic, said: "There's no denying that last year was a difficult year for independent festivals.
"We need the time to look at different models and fresh ideas to bring Summer Sundae back for 2014 and beyond."
Antony Flint, general manager at De Montfort Hall, said: "[Taking a break] was something many popular festivals do and return stronger and fresher than ever."
Jake Bugg, Dog is Dead and Ocean Colour Scene all appeared at the festival in August, which attracted about 12,000 fans.