Widow, 83, abused army family despite restraining order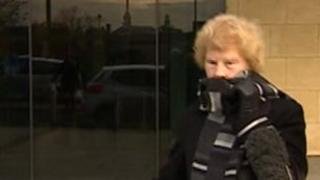 An army sergeant major turned down a posting to Afghanistan because an 83-year-old woman was making his family's life a misery, a court was told.
Ethel Watkins, of Melton Mowbray, was found guilty of breaching a five-year restraining order, banning her from contacting her neighbours.
Magistrates were told the Leicestershire family were abused just a day after the order was made in July.
Watkins was told she faces jail and will be sentenced in January.
The widow originally admitted carrying out a relentless campaign against the family, who cannot be named for legal reasons, at a hearing earlier this summer before being handed the restraining order.
'Felt powerless'
On Tuesday, Loughborough Magistrates' Court was told that within a day of the sentence being imposed she was verbally abusing the family, including two young children, calling them names such as "vulture, scum and hooligan".
At the hearing, a victim impact statement was read out in which the father said he turned down the chance to serve in Afghanistan so he could take the family to Cyprus on a posting with the army.
He said despite serving in war zones around the world, he felt powerless to do anything.
Speaking after the hearing, his wife's parents said: "It has been devastating for the whole family.
"She is an 83-year-old. She has tormented our daughter, son-in-law and two grandchildren for about a year now."
They added that it was "heartbreaking" the family would be in Cyprus and not with them for Christmas.
Watkins denied breaching the order but magistrates disagreed. She will be sentenced on 23 January.
She refused to comment after the hearing.