Leicester's traveller sites 'should go next to mayor's home'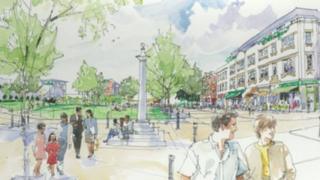 Gypsy and traveller sites should be created near the home of Leicester's city mayor, suggestions in a public consultation show.
Results of the survey were released as the city looks at building more legal sites and removing unauthorised ones.
Mayor Sir Peter Soulsby said he did not think the suggestions were "serious".
In 100 questionnaires, respondents suggested sites should also be located near councillors' homes, council buildings or public spaces.
"I can understand why people do not want these sites near their houses, but I don't think these were ever intended as serious suggestions," Sir Peter said.
"The fact is this is not an issue where we can find a solution that everybody is going to be 100% satisfied with."
The public consultation was set up to consider three sites - Greengate Lane, Beaumont Way and Red Hill Way - which were chosen by councillors from a shortlist of eight, following an initial officer assessment of nearly 350 council-owned sites.
'Further investigation'
Respondents to the questionnaire suggested more than 50 alternative sites.
The report states there were 100 suggestions for the sites to be located at "New Walk Centre, Town Hall Square, Jubilee Square or near City Mayor or councillors' houses".
New Walk Centre is currently council offices, Town Hall Square is a public space next to the Town Hall, and Jubilee Square is a proposed new £4m public space next to the BBC Leicester offices.
The report recommended two of the other suggestions - Hoods Close and Braunstone Lane East - have "potential and are worthy of further investigation and consultation if additional transit sites/temporary stopping places are required".
The report recommendations say Red Hill Way and Greengate Lane sites are both suitable for either "permanent" or "transit" sites containing up to ten pitches each.
Beaumont Way is "potentially suitable" for a transit site containing up to six pitches, the recommendations state.
Sir Peter said he will consider the report and make a decision on 4 January.
"We have got a major problem with illegal unauthorised traveller encampments," he said.
"Something has got to be done about it and the only thing to be done about it is to provide some legal encampments and make sure travellers use them."
Terry McGreal, a member of the action group LE4, said he accepted the council needs to find spaces for gypsies and travellers, but said the chosen locations were inappropriate.
He said brownfield sites should have been chosen instead.