Model of Richard III's Blue Boar Inn made in Leicester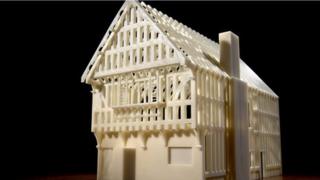 A model of a building where Richard III was thought to have stayed before the Battle of Bosworth has been produced by University of Leicester experts.
It follows the discovery of a notebook containing an 1836 survey of Leicester's Blue Boar Inn, before the property was demolished.
It is believed Richard III, who died at the battle in 1485, stayed at the pub on his way to Bosworth from Nottingham.
Academics at the university are testing bones thought to be the king's remains.
'Grand Hotel'
The inn has been brought back to life as a physical model produced on the University of Leicester's 3D printer.
The timber building was located partly on the site of what is now a Travelodge, in Highcross Street.
Richard Buckley, co-director of University of Leicester Archaeological Services, said: "The Blue Boar Inn was one of medieval Leicester's principal inns.
"It was a place where aristocrats and wealthy merchants would stay when moving around the country. I suppose it was like the Grand Hotel of its time."
Mr Buckley came across new evidence when looking through the notebooks of 19th Century architect Henry Goddard.
One notebook contained extensive notes and measurements of a large timber frame building which the archaeologist recognised as the Blue Boar Inn.
The plans showed how it was put together, annotated with measurements in feet and inches.
The team hopes to exhibit the model, which is about 8ins (20cms) high, to the public in the near future.
Experts at the University of Leicester have also been analysing bones, they believe belong to Richard III, discovered beneath a car park in the city in September.
They are awaiting DNA test results before announcing their conclusions but said evidence still pointed to it being the king.