Richard III dig: Tests on bones continue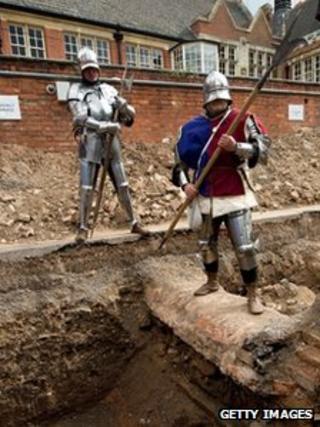 A team examining the suspected remains of Richard III say they have yet to find any evidence to disprove it is the king's body, but are still awaiting some results.
Experts at the University of Leicester have been analysing the bones since they were discovered beneath a car park in the city in September.
They are awaiting DNA test results before announcing their conclusions.
The team said evidence still pointed to it being the king.
The discovery of the skeleton underneath a council car park was originally announced on 12 September.
Archaeologists said circumstantial evidence pointed to the skeleton being that of the English king, who died at the Battle of Bosworth in 1485.
This included a metal arrow in its back, trauma to the skull and a curved spine, consistent with accounts of Richard III's appearance.
DNA from the remains is now being analysed and compared to that of Michael Ibsen, a descendant of the king's sister Anne.
TV documentary claim
Richard Taylor, from the University of Leicester, said the remains could be identified as the king even if DNA tests proved inconclusive.
He said: "We are yet to find any evidence to challenge our original hypotheses that it is Richard, but we are awaiting the results of all the tests so we can make a full academic decision.
"For instance, we haven't even confirmed the gender of the skeleton yet, although initial indications did believe it to be male.
"If all the other tests come back as positive but the DNA does not match, we may still make a decision to name the skeleton as Richard based on the evidence.
Mr Taylor also dismissed a newspaper report claiming his team had postponed presenting its conclusions to coincide with the screening of a Channel 4 documentary about the dig.
He said: "It is completely unfair to say we are holding back information. We have no legal agreement with Channel 4 and the university will not benefit financially from the documentary.
"As soon as we have the full evidence to make an academic judgement on the identity of the skeleton we will do so."