Bride Kristy Cadman-Jones died after 'drugs mix-up on honeymoon'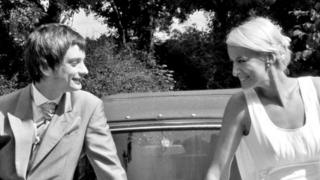 A bride died on honeymoon after taking heroin she mistakenly believed to be cocaine, an inquest heard.
Kristy Cadman-Jones, from Broughton Astley in Leicestershire, died in a Cambodian hotel room on 9 January.
After she died her family released a statement saying the 27-year-old had suffered "heart and cardiovascular system arrest".
The cause of death given at her inquest was morphine and codeine toxicity as a result of taking the drug.
Her solicitor husband Damian Cadman-Jones, 31, denied any involvement in his wife's death, but Deputy Leicestershire Coroner Donald Coutts-Wood said his evidence was "not credible".
'Very pure'
The coroner asked Mr Cadman-Jones about his decision to have his wife embalmed, asking if it was an attempt to "cover up any toxicology that could be done".
Mr Cadman-Jones said he made the decision so his wife's mother, Carol Heslop, who did not travel to Cambodia after her daughter's death, could say goodbye to her daughter.
The inquest was held at Leicester Town Hall, where the couple married in July 2011.
They took their honeymoon six months later, visiting south-east Asia in a four-week trip which ended in Phnom Penh, the capital of Cambodia.
On the night Mrs Cadman-Jones died she and her husband had met another couple in a bar, the inquest heard.
Mr Cadman-Jones named the couple only as Terrence and Jess, and said they all went back to their hotel room together.
The couple had a bag of cocaine and went into the bathroom to take the drug, which Mr Cadman-Jones said he refused on behalf of himself and his wife.
Mr Cadman-Jones said his wife, a recruitment consultant and former newspaper journalist, occasionally used cocaine but he did not see her take any on this occasion.
He said he woke in the early hours of the morning and found her unresponsive.
Recording an open verdict, Mr Coutts-Wood said: "It's clear to me that the lethal level of morphine is due to Mrs Cadman-Jones using a very pure heroin."
He said he might have reached a verdict of unlawful killing, but he did not have evidence beyond reasonable doubt.